Image For The Week
Saying For The Week
Updates
—–> Checklists & Variety shows
I'm still playing catch up with variety shows I watch; Running Man, Infinite Challenge, 2 Days 1 Night, Abnormal Summit, Gag Concert, Happy Together, and 72 Floors of Mystery. I doubt I will ever catch up with Abnormal Summit lol!! On Happy Together ep 507 some child actors guested on Legendary Big Mouth. The kids are soooo super-duper cute and amazing!! I felt they were too heavily edited. It's been ages I've seen Kim Shin Young on any of the variety shows I usually watch. And as usual she was awesome in Infinite Challenge ep 540 – Summer Festival special. She freaking rocks!!! Stephen and Seth Curry made an appearance on Infinite Challenge ep 541!! Stephen's facial expressions were priceless hahaha!! Despite all the tricks by the members, the Curry brothers still won the match 😀 I personally don't mind watching Chinese variety shows, but with the recent plagiarism issue on some of their variety shows, it's discouraging. Over the years, I have seen Chinese versions of Korean variety shows – Running Man, I Am A Singer, Sisters over Flowers and a host of other shows. There's nothing wrong in using someone's else work as inspiration, but at least do it the proper way!!! Freaking ask for permission and also make sure it's granted!!
Lost Love in Times is the only palace drama I've seen where the Crown Prince is such an angel. He's literally an angel; he's so compassionate, considerate and kind! It's really refreshing to see such a portrayal of a Crown Prince. I started 2 Taiwanese dramas during the week – Attention, Love (稍息立正我愛你) and When A Woman Chases A Man (我和我的四個男人). Both shows look promising and interesting. I'm not convinced about Hwang In Deok's acting in WAMCAM, probably in a couple of more episodes I would be able to get into his character. Joanne Tseng and Wang Zi are doing a good job at reflecting their emotions. I'm really enjoying My Mr. Mermaid! Yun Duo is happy-go-lucky and so cute. Yibai's mum is something else, I love that woman lol!!! I've only watched the first ep of The King's Woman, and all I can say is, that episode was BRUTAL!!! Such brutality in the first episode, I wonder what's left to be seen in later episodes lol! Back to Lost Love in Times, Qing Chen takes scheming to another level. She maximizes her mysterious identity to the fullest. She cleverly got everyone fooled about her parentage being related to Feng, if Yuan Ling didn't know her from Pingxing he would probably have fallen for it too. Yuan Zhan isn't sure, but there's no evidence to prove otherwise. Even though Feng is wary of her, there's little he can about it lol!! I know there are still 28 eps, but the romance between YL and QC needs turbo boost 😀 I wonder when the truth about Consort Lian wielding dark sorcery will be unveiled, I hope it doesn't have such a negative impact on YL. I'm still keeping my fingers crossed for Eng subs on Blind Date and Head Above Water *fingers crossed*
Two typhoons in 4 days!! No kidding!! And this morning there was a storm. The weather is just simply crazy. It's been a little over week since my arrival in HK; I've been to a Taiwanese restaurant, visited 2 temples, was at the Temple Street night market, and I even had the chance to see a live shooting. No idea if it was a movie or a drama.
Song For The Week
Attention Love OST, Guess by Joanne Tseng, ENJOY!!!!
Eye Candy For The Week
Photoshoot of some of my favourite female actresses!!!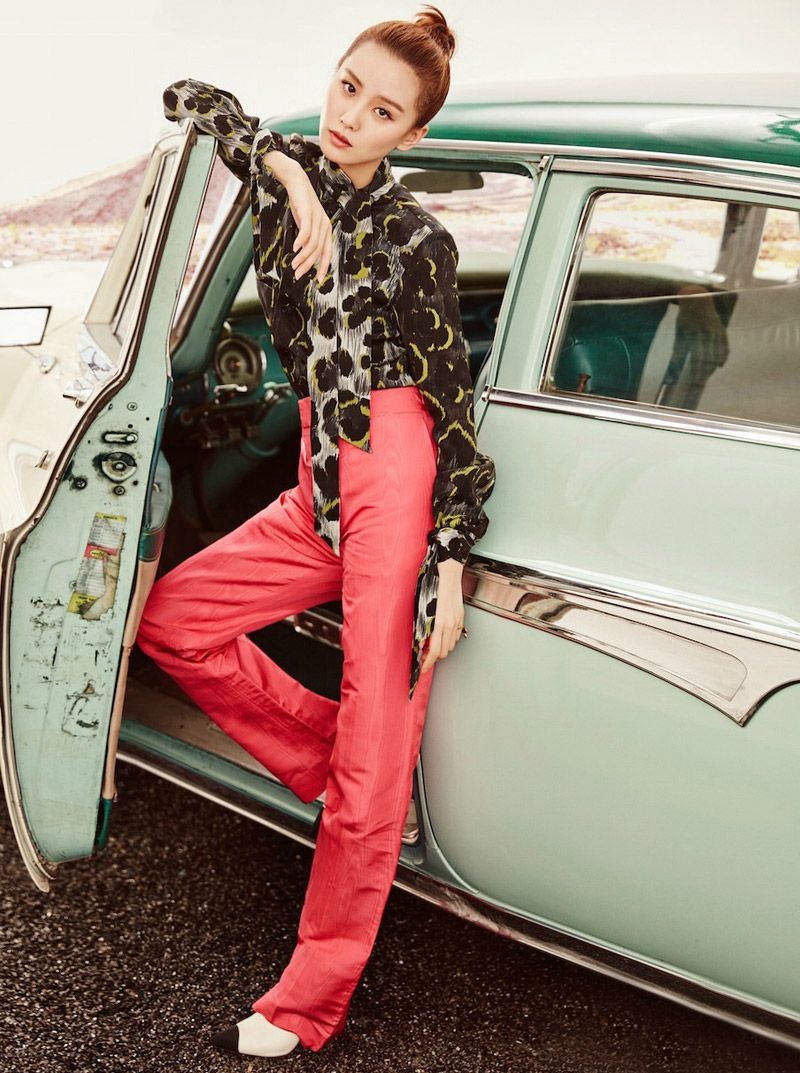 Have an awesome week!!
P.S –